File Transfer with FTP
WinSCP - WS_ftp - ftp in Windows XP - ftpExplorer - good old ftp
FTP is uitermate handig om aan uw files te kunnen die op een andere server staan. Zoals van thuis bekijken van uw files op de VUB (uw persoonlijke E: of Z: drive) of uw website op het rekencentrum (documentatie website op het rekencentrum). Met ftp kan je files copieren van en naar de geconnecteerde server (downloaden & uploaden). Je kan files ook rechtsstreeks openen, maar niet rechtsstreeks bewerken, hiervoor copieer je ze eerst naar je lokale computer, bewerk ze en upload ze dan terug. Je kan ook folders creeren, deleten, etc.
Om een connectie aan te maken, moet je minstens het Host Address invullen (dit is het adres van de server op het internet), je login en je password geven.
Host Address voor rekencentrum (hier staat je persoonlijke website): student.vub.ac.be
Host Address voor VUB files (je Z: drive, rekencentrum): nestor.vub.ac.be
Host Address voor VUB files (je E: drive): iristor.vub.ac.be (voorheen

twws4

) en als login: AD\username (dus niet vergeten AD\ voor je login te zetten!!)
WinSCP (one of the best...)

Website, download latest version from download page (Installation package or simply the executable).
WinSCP also supports secure ftp.

Create a new session with New. Fill in Host name, user name and password (you can leave the password field blank).

Save it first! Then open it.
You get two windows, the left one shows your local files, the right one your files on the server.
Simply drag files from left-to-right and back!

Tip

: Save your current session (under Session menu) and next time you start the session it will open

your current folders

.

Ftp met Windows Explorer
Open een nieuwe Windows Explorer (bvb met Windows-toets + E te drukken)

Tijp

ftp://nestor.vub.ac.be

, of

sftp://nestor.vub.ac.be

als een secure connectie noodzakelijk is.

Ofwel vraagt hij naar je passwoord ofwel selecteer je

Login As...

van het File menu of van het snelmenu (klik rechtermuisknop op ftp-folder of in window).

Je voegt een ftp-connectie toe aan je "My Network Places" als volgt:
Start My Computer => "My Network Places" (te vinden onder "Other Places"), dan kies je "Add a Network Place" (onder "Network Tasks") en een Wizard wordt gestart. Klik Next
Kies "Choose Another Network Location" en klik Next
Hier moet je het ftp-adres geven van de server, bvb "ftp://nestor.vub.ac.be"
Deactiver "Log on anonymously" en vul je User Name in
Geef een naam aan deze connectie
Finish
Deze link komt dan in je Explorer te staan onder My Network Places (te zien als je onder View => ... => Folders aanzet, dit geeft de boomstructuur)
Als je dan op Target klikt, gaat hij een connectie met de server maken en je passwoord vragen
Dan kan je simpel files up- en downloaden door ze te slepen van je Z: of E: naar de nestor.


WS_ftp
WS_ftp can be found in the computer rooms under Start => Programs => [TW] Internet => WS_ftp.
You can download it from here. The installation is simple, when it asks for your emailaddress, you don't really have to do this.
To use it, fill in the connection parameters and then you see at the right your files at the server and at the left your local files.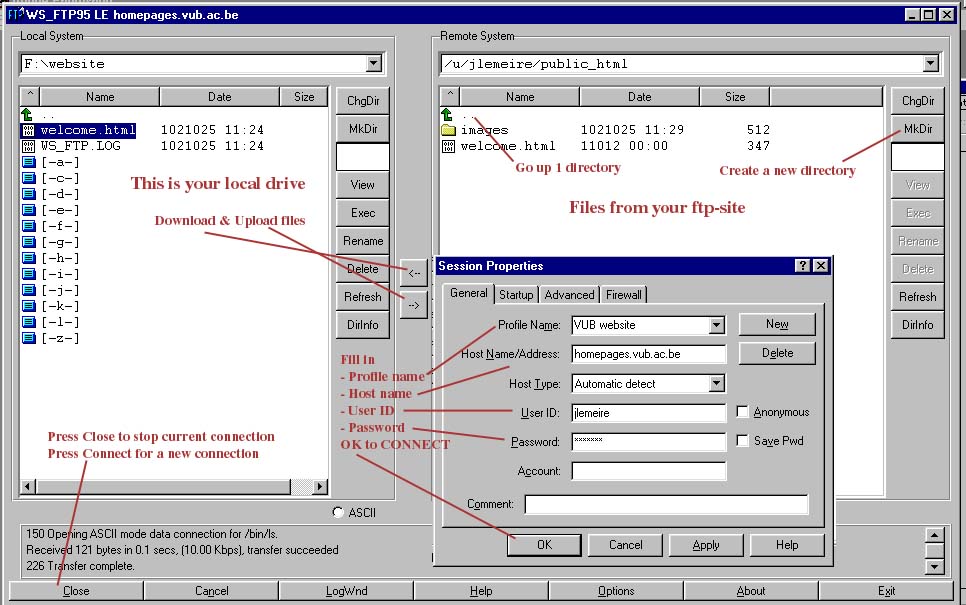 FTP Explorer (GIVES ERRORS ACCESSING student.vub.ac.be or nestor.vub.ac.be!!)
FTP Explorer staat in de Computerlokalen onder Start => Programs => [TW] Internet => ftpExplorer.
Je kan FTP Explorer van hier downloaden. (gebruik bvb Winzip om de file te unzippen, documentatie Winzip)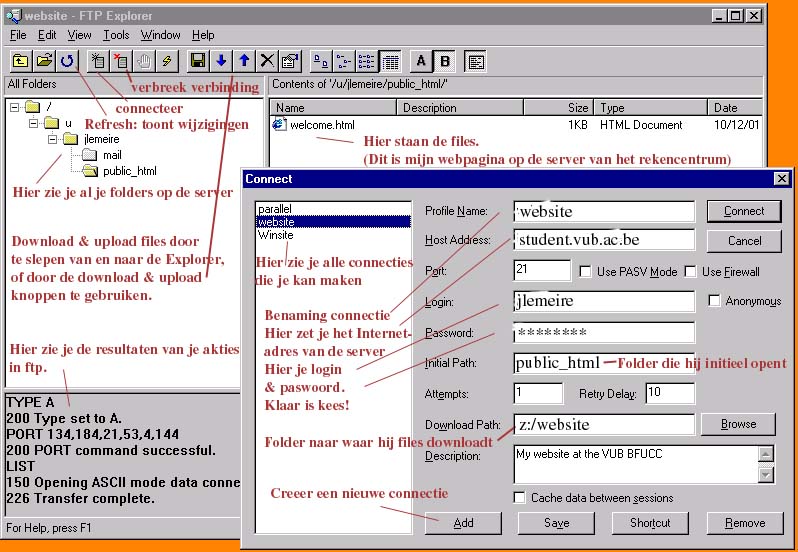 Copieren van files van (=downloaden) en naar (=uploaden) de server kan je doen door ze te slepen van en naar de Explorer, ofwel de knoppen

en

te gebruiken. Voor dit laatste is het handig als je het Initial Path en Download path hebt gespecifieerd.

Troubleshooting
Problemen met files up- of down te loaden: het helpt soms de connectie te sluiten en te heropenen
ftpExplorer geeft problemen onder WindowsXP, als je bvb aan de Nestor aanlogt krijg je je folders foutief. Gebruik dan een ander ftpprogramma of in WindowsXP zoals hieronder beschreven.
Good old ftp
Each computer with internet has the basic ftp. See here how to use it.

- Open the Run window (Start => Run)
- Type:

ftp student.vub.ac.be (host address)

- When asked, enter your login, hit ENTER, enter your password, and hit ENTER again.
- Now you will have a connection and you can start down- and uploading

ftp commands
help or help command: help in general or about a certain command
put/get: copy a file to or from
mput/mget: put/get multiple files
prompt: switch on or off the interactive mode
cd: change directory
dir: show contents of the directory
mkdir/rmdir: create or delete a directory
bin: go into binary mode, to prevent text files to be converted/changed (happens sometimes)
h: show progressions
---